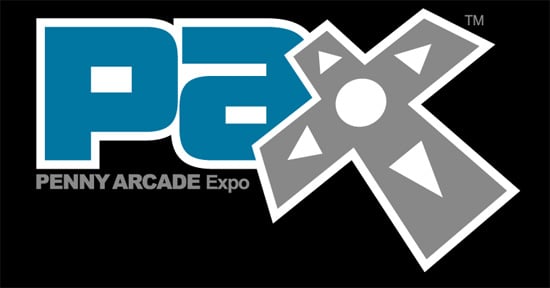 I am currently experiencing a plethora of pre-PAX thrills. I have been attending this wee little convention for five years straight so I certainly know what to expect, but because of this blog and my recent dedication to scouring the internet for press releases and my newfound love for matching games to the companies that are developing/releasing them (extracurricular studying FTW), I imagine this one is going to be a tad different. But even though I may be slightly more analytic this year, directing my focus in a slightly altered way, I have loved my previous PAX experiences so much, and the traditions that have come out of being a veteran, that I am unlikely to deviate too far from my normal routines. So just in case anyone wants to find me on Friday…
Friday is the line up and wait day (okay, every day is like this, but this is the FIRST LINE we will wait in, so it's special). Last year we got there around 8:30am but still ended up waiting outside for a couple of hours. It was pretty entertaining to watch the line inside the WSCC start to move but
still
be standing still for another 40 minutes or so (Longest. Line. Ever.). But I can't emphasize enough how excited you will be in that line. All of your fellow attendees are there, too, and they are just as thrilled as you are-I swear everyone would start snuggling if somehow social etiquette and boundary lines were erased for just five minutes. With two different venues containing Queue Rooms, this year should be better in terms of lineage. We will be at Beneroya Hall on Friday morning in order to see the Keynote with Warren Spector and attending the first of the Penny Arcade Q&A panels directly after. I laugh, I cry, I will never miss a Q&A panel.
During the day on Friday we will probably be checking out the Expo Hall and scouting for which games are playable and which contain long demo wait times. On my definitely-want-to-see list is Dragon Age 2, Fable 3, Assassin's Creed: Brotherhood, Deathspank: Thong of Virtue, From Dust, Portal 2, Slam Bolt Scrappers and a whole bunch more. Friday is for note taking. Sunday is for gaming! Besides the occasional sticker or t-shirt I am not a big collector of swag-first of all, I hate carrying it around (ironic, since my car will be parked across the street), and second, I never do anything with it post-PAX. My only souveniers from PAXEast are an awesome button I picked up off Wil Wheaton's autograph table of a cat donning an eyepatch and holding a martini in one hand and a gun in the other and a card containing a download code for a PAXEast hoodie for my Xbox Avatar. That was enough.
We will be at the concerts on Friday night to see the Protomen and Anamanaguchi performing. We missed the Protomen during PAXEast (we were having such a good time playing board games with folks from DC and Atlanta) and heard later that the show was amazing, so we won't skip it this time. I am sad to see that Freezepop won't be peforming this year, but they will be at a local venue at the end of September, which sounds much more intimate and cuddly. This happened at PAXEast, too, and we had a great (/claustrophobic /jumpy up and downy) time seeing them at the Café across the street from the event.
In between the morning events and the concerts I will be attending a game journalism panel,
Movin' on Up: How to Make (Or Not) in Videogames Journalism
in the Unicorn Theatre, where I suspect I will fall more into the latter category over the former. But it's always nice to get some advice from the pros. If anything I might learn how to write this blog in such a way that keep people here and reading, even if I occasionally talk about Dragon Age too much (OMG, totally playing Awakening right now and...nevermind). We will be attending the Of Dice & Men panel that evening as well. Sometime on Friday we will definitely be heading over to the Mexican Cantina in the Pacific Place Mall for some seafood enchiladas because they are delicious. We do it every year.
Besides all of these planned events, I will more than likely be cheering on the folks in Rock Band Freeplay (perhaps performing as well if I can muster the guts to do so) or playing Tabletop Games with my loving fiancée and various friends and strangers turned friends. Late in the night you will probably find me cuddled up to said fiancée on a square of bean bag on the second floor, parked next to a power outlet and playing Luxor on my iPhone, looking out the window onto a glittering Pike Street full of late night attendees and wishing the weekend would never end.
http://euphoricprophecy.blogspot.com